Jackie's adventure to Vermont for a teaching by Pema Chodron.
May 2013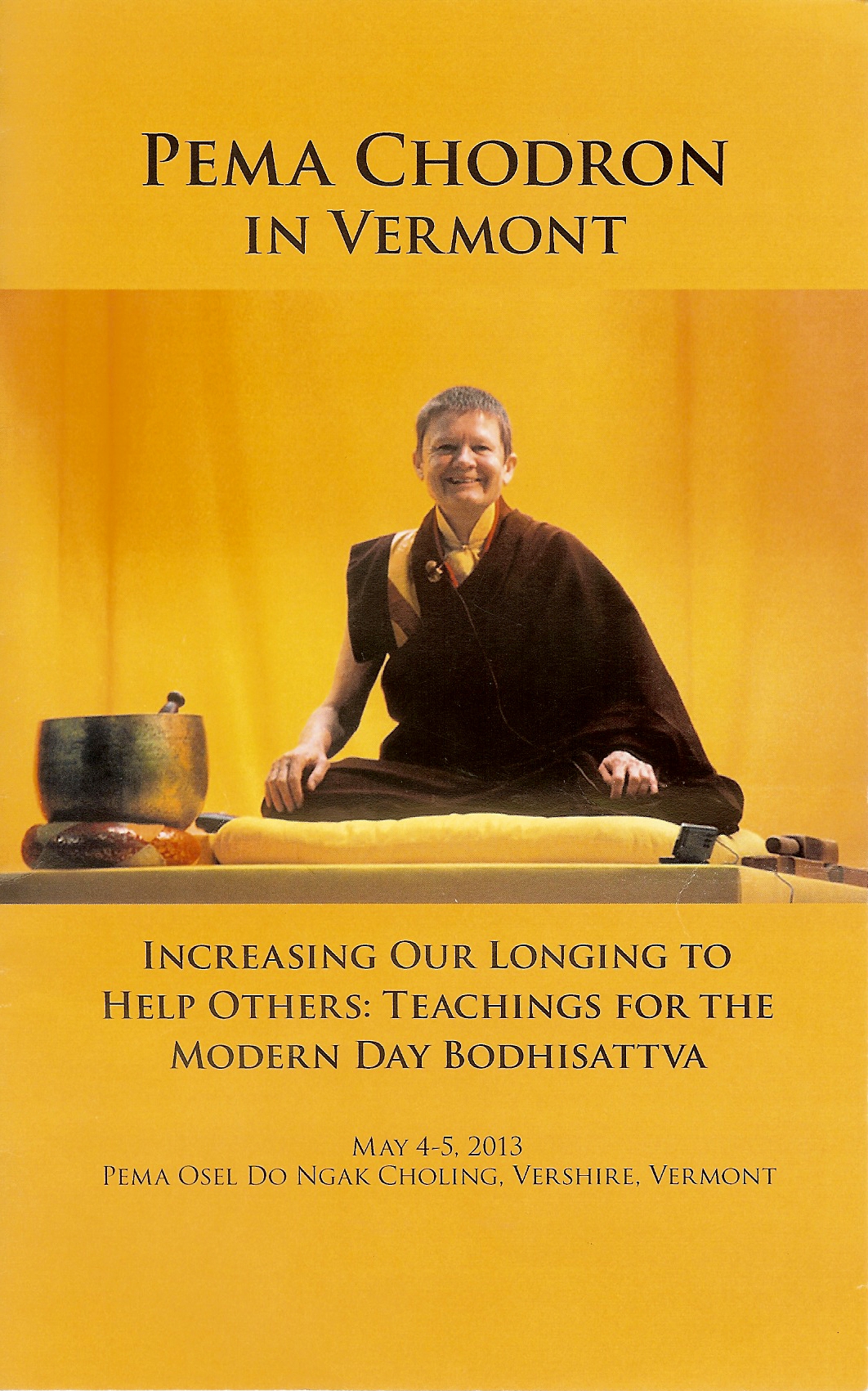 For my birthday this year Mike gave me a gift to go to a retreat in Vermont to hear Pema Chodron, a Buddhist nun, speak about the teachings of Shantideva (a famous scholar and yogi of India in the 8th century) on ways of the
Bodhisattva. I can hear you now; what is a Bodhisattva? In Mahayana Buddhism (Tibetian) the Bodhisattva postpones attainment of Nirvana in order to alleviate the sufferening of others. They choose to come back life after life (even though they have achieved enlightenment) to help those in need. Mother Theresa, and/or Ghandi (people who help others for no gain of their own) would be considered a Bodhisattva.

This is an account of my adventure alone to Vermont.

Thursday Evening May 3, I left for Vermont. What a day it was, Newbury Park, California was a blaze.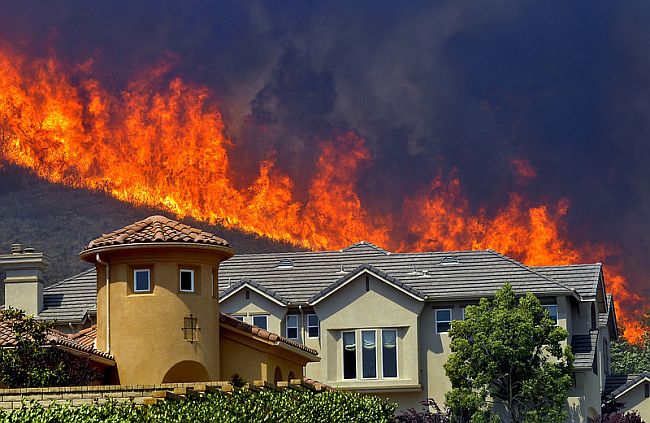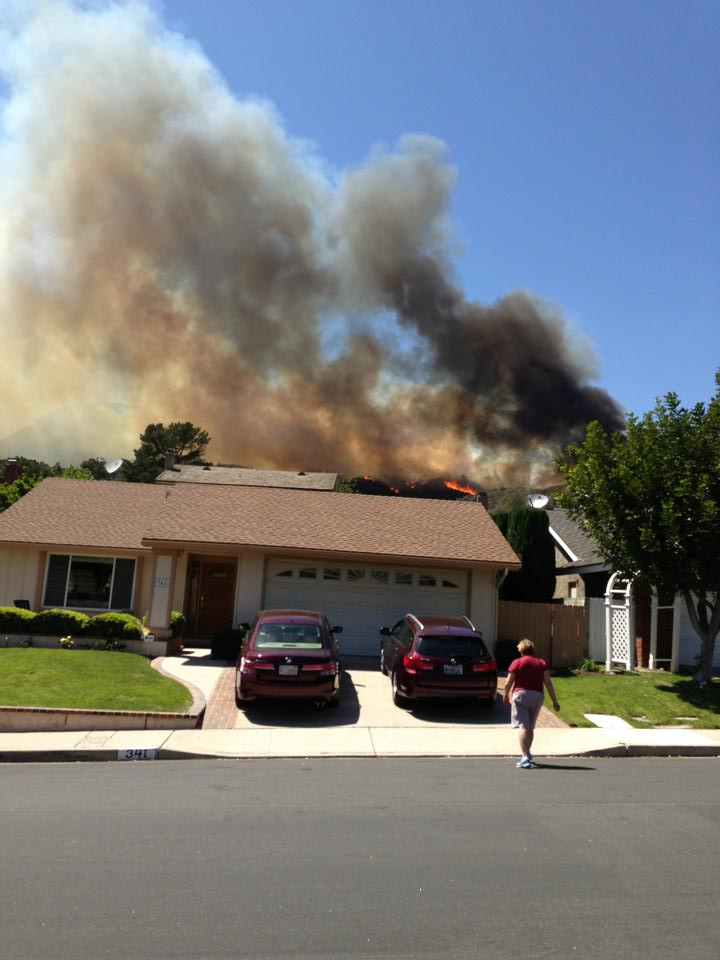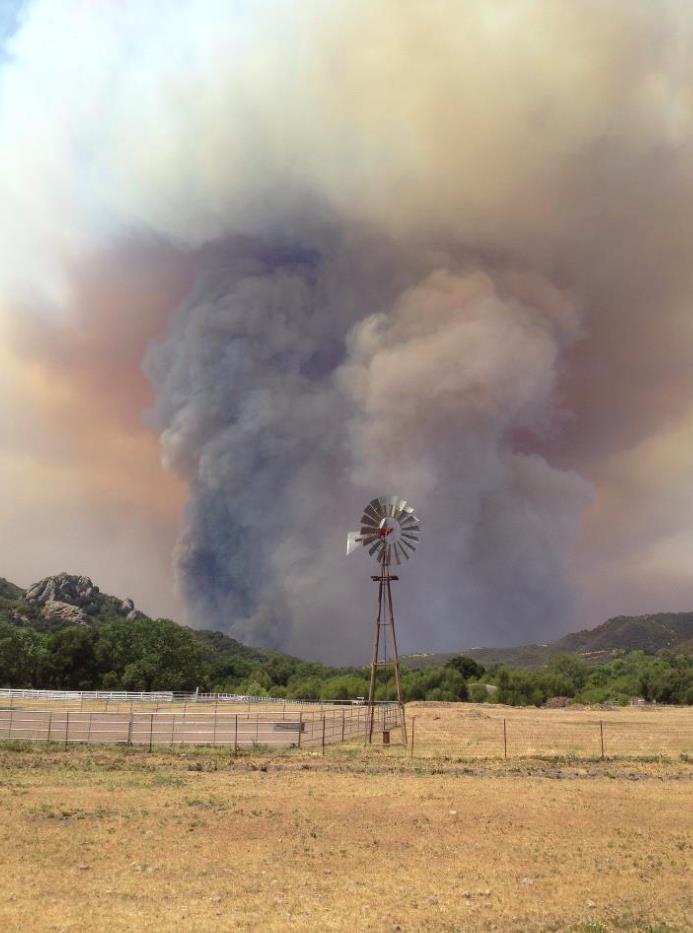 Dos Vientos Uncle Bill, Aunt Karolyn's Home Looking toward Sycamore Canyon

Thank you to all the fire fighters who came to our rescue... no homes were lost!

Mike dropped me off at LAX at 9:00 PM for my 12:45 redeye to Philly, which was booked. When I got to Philly, I was unable to make my connecting flight, the gate was too far away, in fact the airline already had my ticket waiting for me at the counter. I had to take a shuttle to my gate, which took about 30 minutes. Waited 2 hours for my flight to Burlington. Once in the air I was amazed at all the lakes and rivers, I guess I have just lived too long in So. California, I am not use to seeing so much water. While looking out the window I thought to myself, that bridge looks familar...the pliot came on the speaker and told us we were 25,000 ft above NYC, it was the Brooklyn Bridge. I finally got to see NYC!!

We landed at the Burlington International Airport, 2 runways, 4 gates, a very small airport. My luggage was not there, I went up to the counter, no one was in any of the lines, this was in the middle of the day. Felt like I was in the twilight zone. I told the gentleman at the counter that my luggage was not in the carosel. He looked up with a smile and asked, what color is it...well it's beige with pink swirls I said... is your name Jackie Brand?....Yes it is! He pulled it out from behind the counter, "I have been waiting for you". My bag arrived on time, bet me there by 2 hours. Yeah, I have a change of clothes! I walked up to the car rental counter, again not a sole in sight, and rented my car. I had found my luggage, and rented my car in less than 15 mintues. I could get use to this.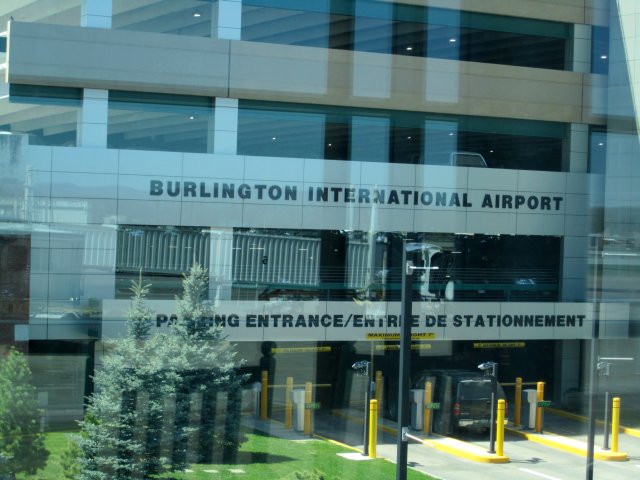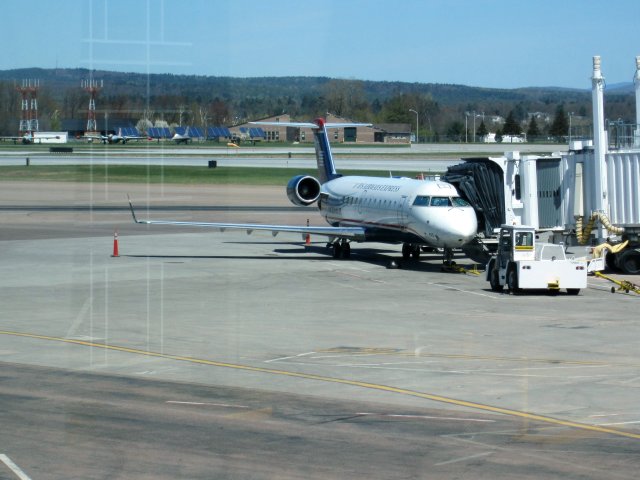 In english and french... photos taken from the same walk way, the only jet on the ground, my kind of airport (I can't get lost).

So far so good. Now the drive to Fairlee, Vermont, should take me 2 hours. Highway 87 to Highway 91, easy enough. What a beautiful drive, enjoyed seeing the "watch for moose" signs. I was very tired. Made my turn onto highway 91, drove 15 miles, exit 8, great only have to go to exit #15. Fifteen miles later exit #7 (it was suppose to be exit 9!), in the middle of no where, with no signs. Crap! I went the wrong way, I am almost to Boston (and in the wrong state!). I called the Lodge and confirmed I was NOW headed in the right direction... what's another 60 miles!

A little after 5:00 east coast time, I arrived at the Silver Maple Lodge, a bed and breakfast... looks like an old farm house. For those who are interested www.silvermaplelodge.com . Scott the owner was very nice, checked me in. The place was booked out for the weekend. He took my bag to my room which was just above the living room. Very cute room with a private bathroom. I was so tired, I decided just to grab a sandwich from the local market for dinner. I brought it back and sat on the front screened in porch, the porch wrapped around the house. No TV(which is a good thing), but they do have wifi. At 7:30, I skyped Mike, after that I could no longer keep my eyes open, I went to bed.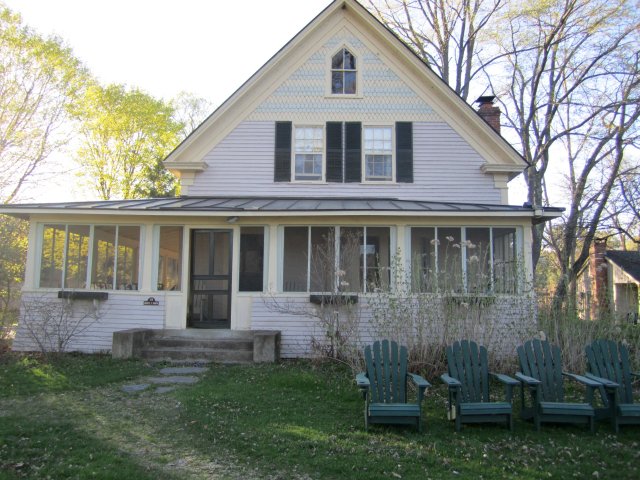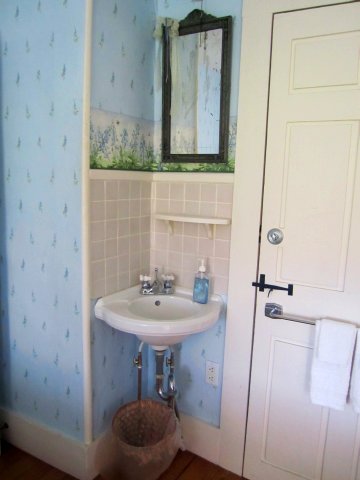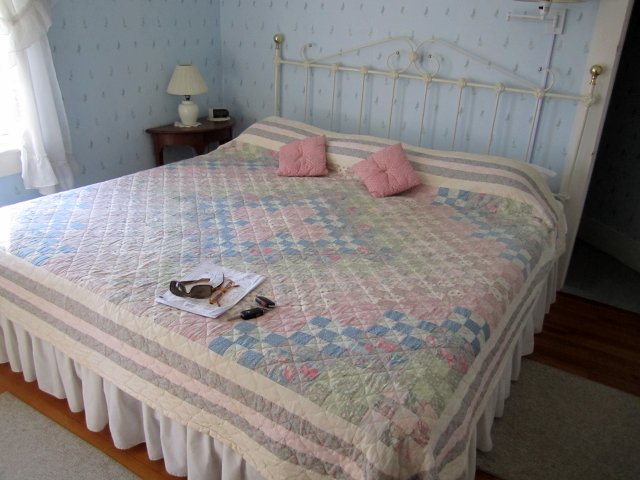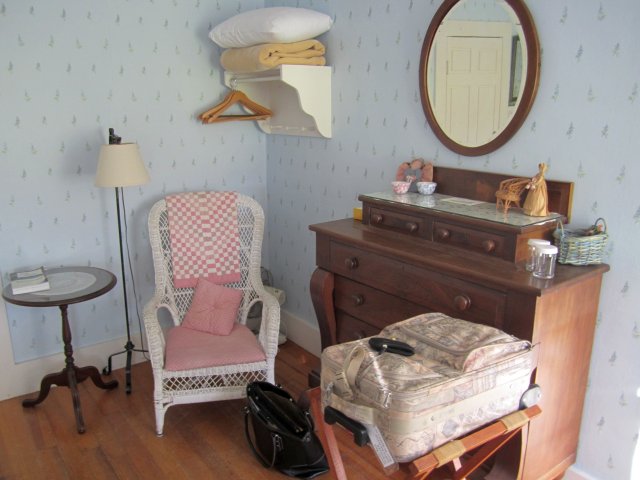 Silver Maple Lodge Room: sink bed chair/chest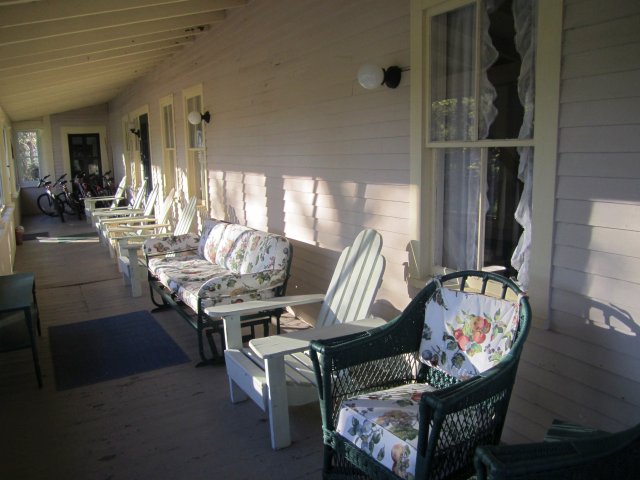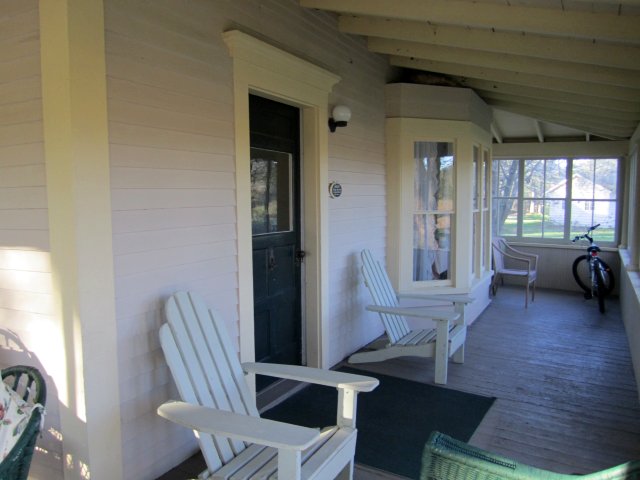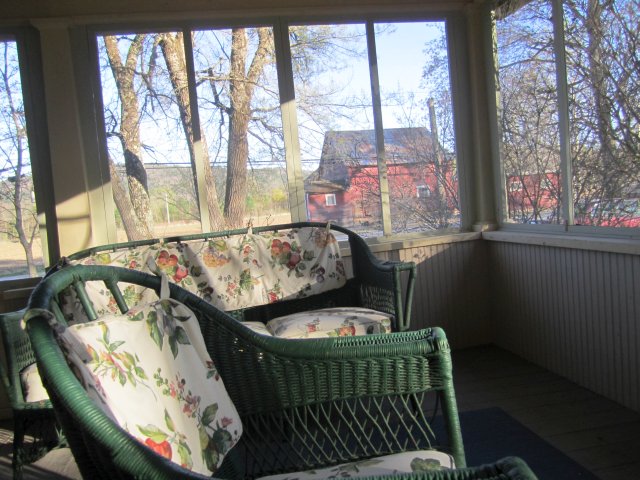 Front porch around the corner my view while eating dinner, a barn across the street.


I woke up about 6:00 AM, and decided to get up. I got dressed and went down stairs, not a sole around. Pulled out my kindle and read. A bit later Scott came out with coffee and cakes. One by one people started to come down stairs. One lady came up and we began to talk. It ended up everyone at the Lodge was going to see Pema. I asked this lady if I could follow her to the school, I was still abit shaken up about getting lost yesterday. Apparently she was there when Scott got my phone call that I had gotten lost, she knew about me. She said "why don't we just drive together, let's get there early, we want good seats". I was very pleased to say the least.

On the way there we introduced each other, her name was Gregory, yes, girl Greg. She is from Ottawa, that's in Canada for those of us from the west coast. She has been to a few events and knows how it works. We had to park at the local school, from there we were bussed to the event site which is called Pema Osel Do Ngak Choling, in Vershire, Vermont. Greg kept me moving, explaining that we can look around later, get registered and get your seat. Thank goodness for Greg, I would have been milling around and would have been sitting in the back. We got as close as you can get without paying for the expensive seats.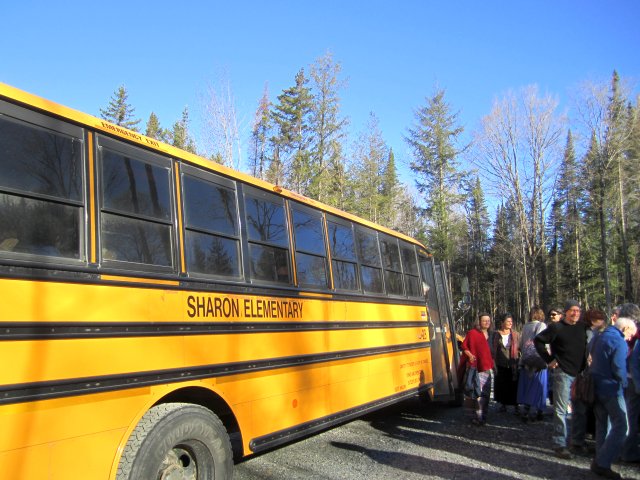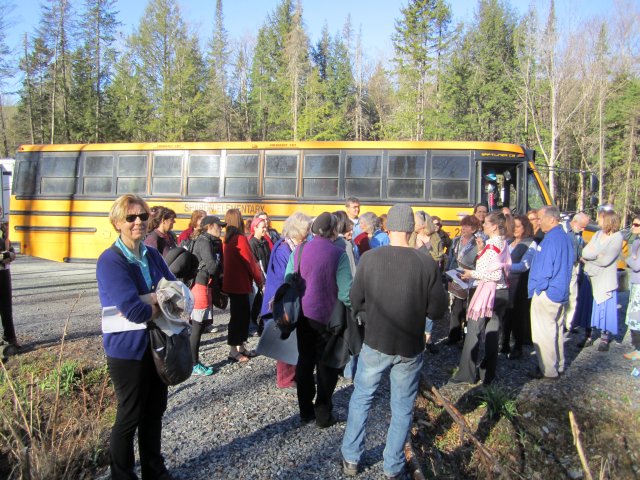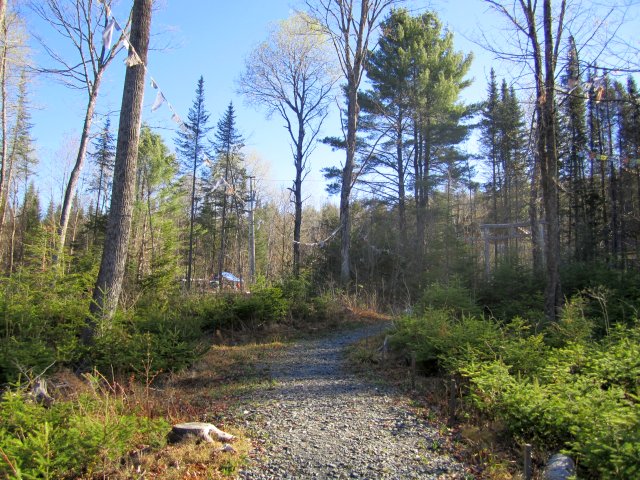 Was bussed in.... Greg in the blue sweater, getting instructions path to the retreat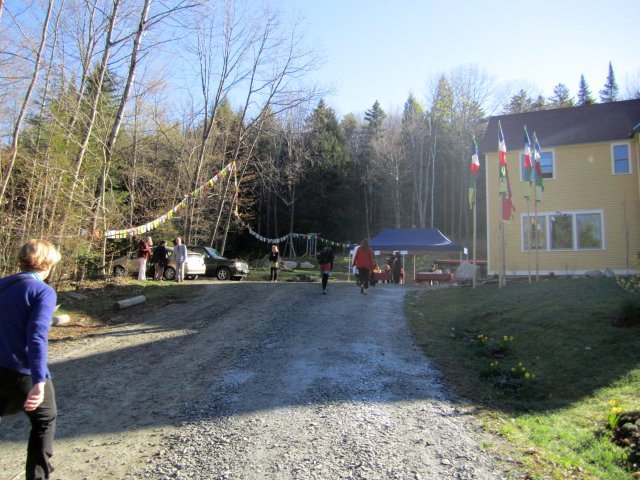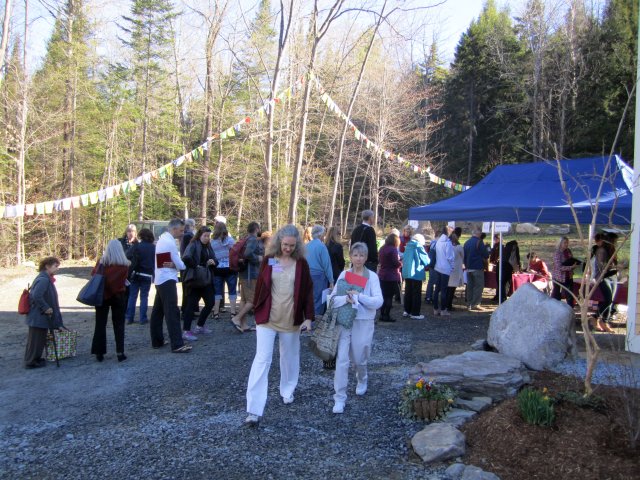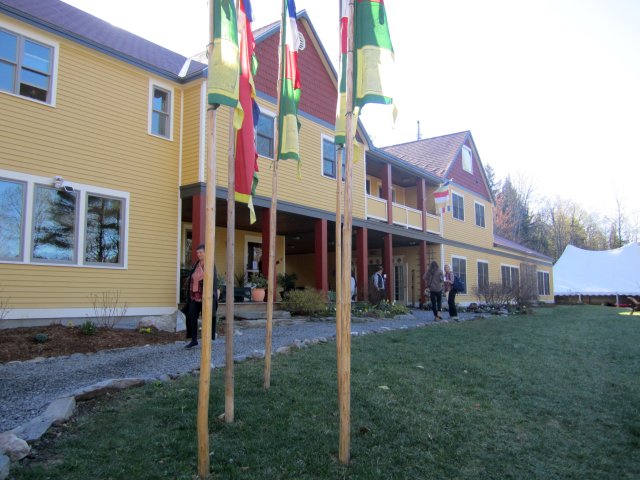 Trying to keep up with Greg, after registration, get in quickly to get our seats, front of Pema Osel Retreat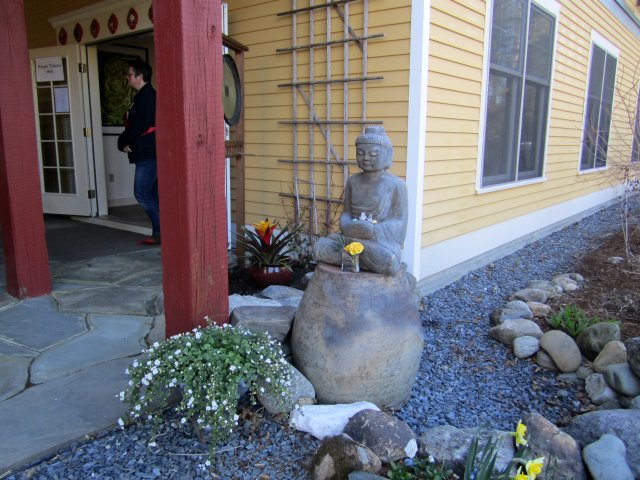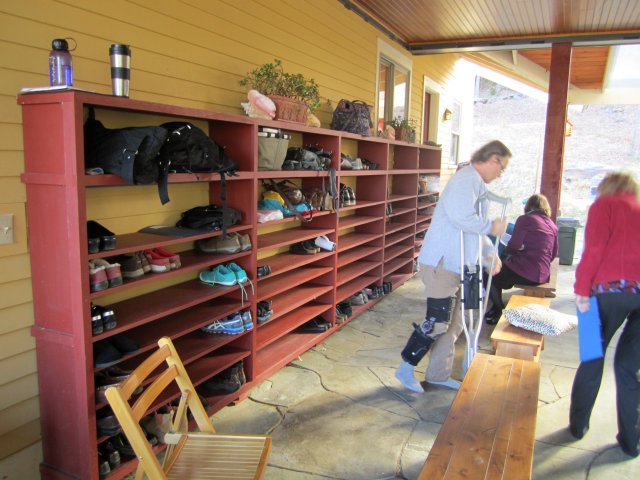 Entrance Shoes rack, no shoes in temple Purple entrance(we have blue tickets)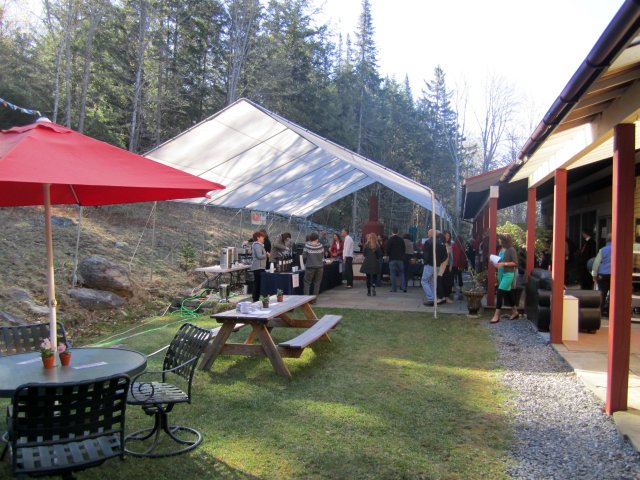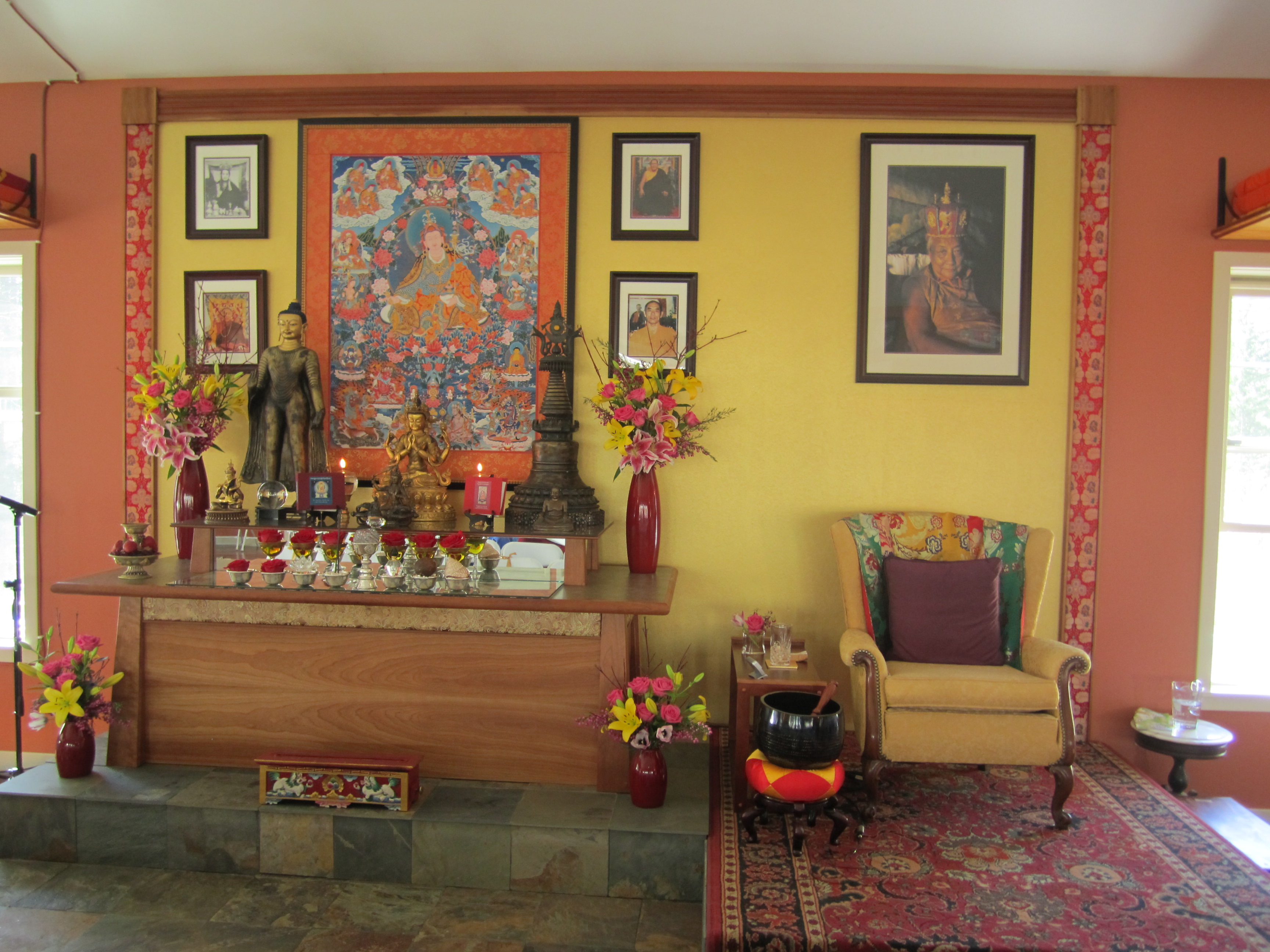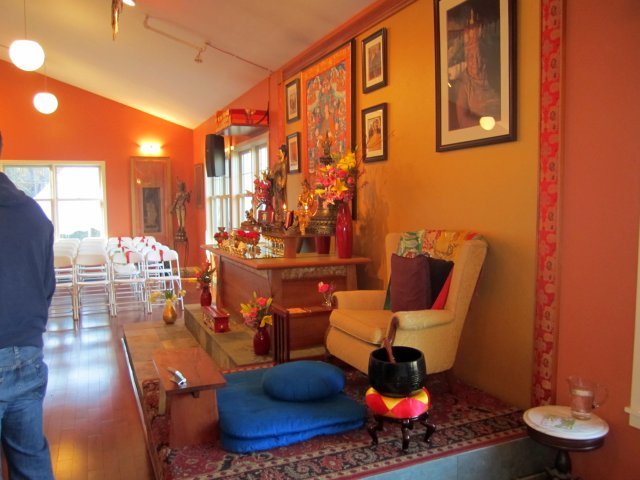 Back of building, blue/gold entrance.. Facing shrine From my seat, Pema will speak from chair.
You can get coffee, tea, yogurt, and they have a gift/book/CD store. Greg and I both bought a journal.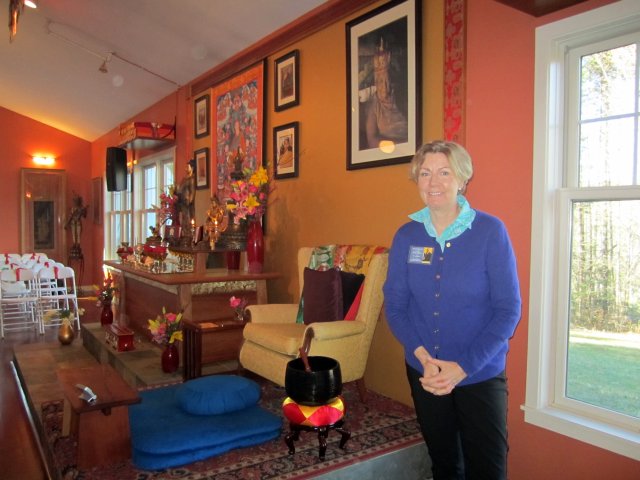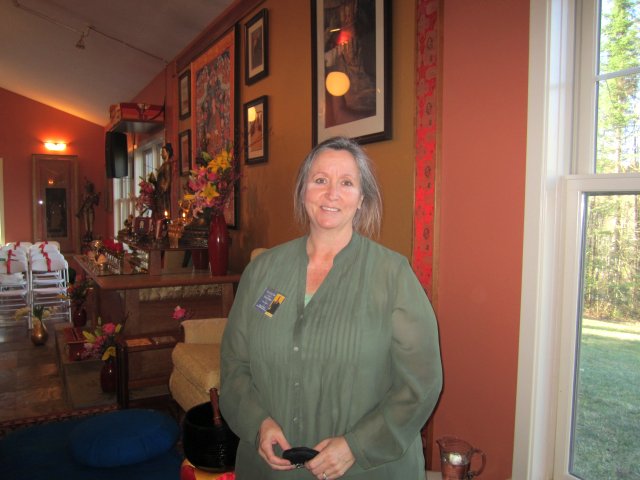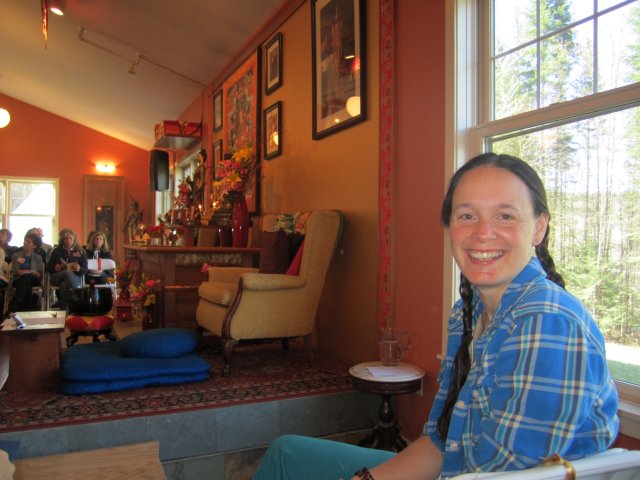 Greg Jackie Jodi- from Wisconson: had a seat just in front of us.


Schedule
Saturday, May 4. 8:00 am-5:30 pm
Morning Session: Meditation, talk and Q&A by Pema Chodron
Lunch: 1.5 hour lunch break with complementary vegetarian meal
Afternoon Session: Meditation, talk and Q&A by Pema Chodron
Sunday, May 5. 8:00 am-6:00 pm
Morning Session: Meditation, recap, and discussion groups led by Khenchung Joey Waxman: I was in group #8 with Caylee
Lunch: 1.5 hour lunch break with complementary vegetarian meal
Afternoon Session: Meditation, talk and Q&A by Pema Chodron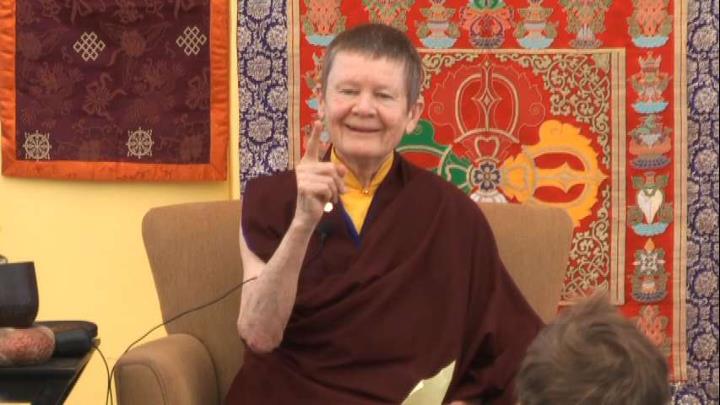 Pema Chodron -photo taken from her facebook page:

This was our scheldule, we started with an hour long meditation lead by Khenchung Joey Waxman. We were informed at this time that Pema requested that Saturday be a Silent retreat day, no talking at all. To tell you the truth for someone like me (on the shy side around new people) not talking was not very hard. We were told no photos during the teaching from Pema. After the Meditation we had a short break then Pema came in. Wow we had such awesome seats, I could not believe it, better than I had ever hoped for. Wonderful teaching, with great questions. We broke for lunch, it was very strange having 300 people, and not a single person talking. Lunch was very tastey, after I ate I took photos, and just took it in, hanging on to each moment.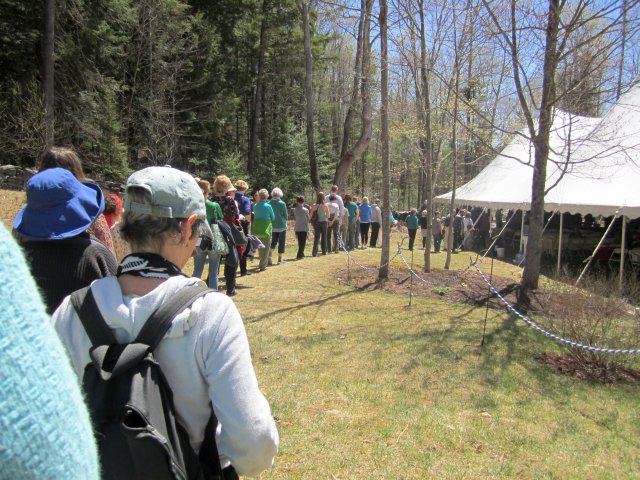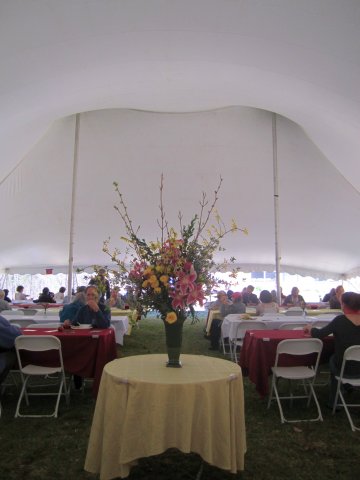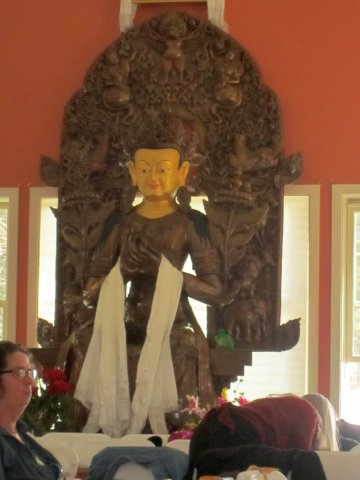 line for lunch-silence inside of tent statue inside - with Susan (we had dinner with her)

After lunch we meditated for an hour, and had a break During the break I stayed for yoga, I needed to stretch, those folding chairs were hard on the back. After the break Pema was just wonderful, she spoke from the heart, when she laughed her face lit up, being so close I had actual eye contact. We continued the teaching on the modern day bodhisattva. Some of the questions where quite insightful, and tear jerking. Pema was very thoughtful with her answers.

Then it was time to go back to the lodge. The day went by so quickly. We were able to speak now and there was a lot of talking. Before we left, we were told that we could not save our seats, we would have to get new seats tomorrow. I didn't think we could save them. We introduced ourselves to others, exchanged names and numbers. Most the people at this retreat were from the New England/east coast area. We waited in line to get back on the bus to our cars. What a wonderful day. Greg and I decided to go out to dinner.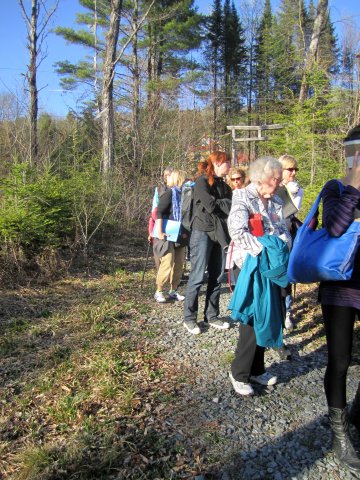 Waiting in line for the bus to take us back to the car... on the way back to the lodge we passed Lake Fairlee. Greg told me of her home on the lake...her home faced the sun set, how beautiful it must be.

We got back to the lodge and decided to go out for seafood, I believe the name of the restaurant is Holly Mackerel. We walked in and saw a woman at the counter who looked familar, we asked if she went to the Pema retreat, she said she did. We invited her to join us and she said yes. Her name was Susan. It is so strange, after I had gotten home I realized before meeting her in the restaurant, I had taken a photo of her in front of the Buddha in the shrine. We did not sit by her I just snapped a photo and she was in it. We had a lovely dinner, and returned to the lodge. Greg and I decided that we would leave a bit earlier than we did this morning, we wanted good seats. I would have to follow her to the school because she was leaving straight from the school to drive home to Ottawa.

Sunday: I got up a 5:00 AM I could not sleep. I got up and dressed. I went down stairs and read a book. At 7:00 Scott was out with the coffee. I had a cup, Greg came down and we left. I followed her past the lake to the school. We were one of the first to arrive. While we were getting out of our car, a woman came up and asked if we would car pool up with her to the retreat. They wanted to save an extra bus trip, so they were going to carpool some people up. We took the offer and drove up. Getting to the the retreat 1/2 an hour before the first bus, we were able to get even better seats than we had yesterday. We were in the same row, just at the end of the row. We had time to get coffee and yogurt for breakfast. We pulled some chairs out into the sun and enjoyed the morning, watching people arrive, walking up the path to the retreat house.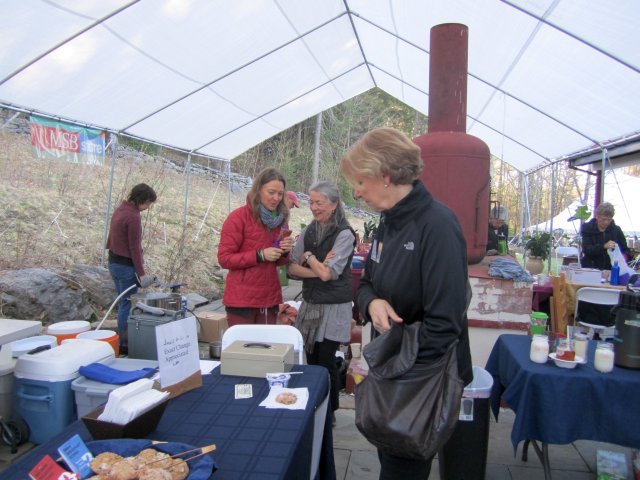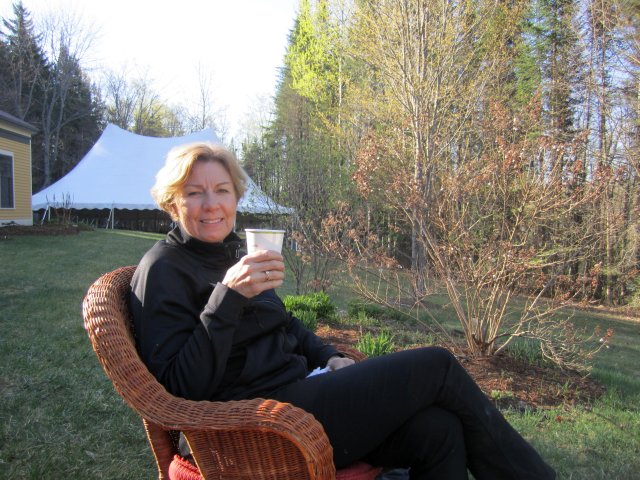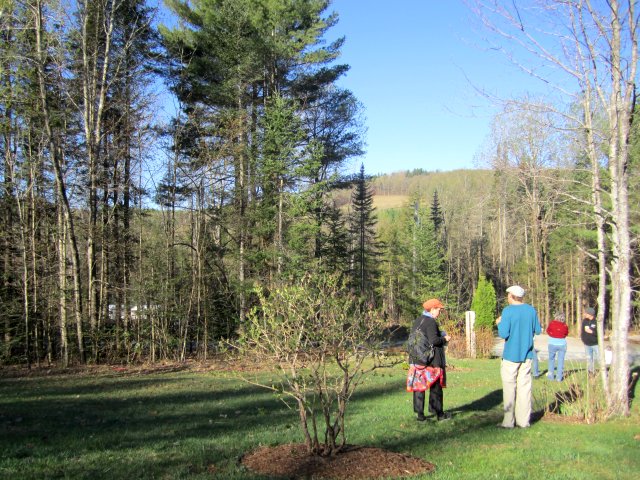 Getting our coffee and yogurt Greg and I enjoying the beautiful morning, watching people come up from the bus.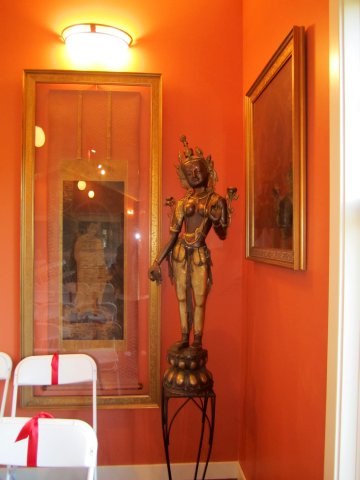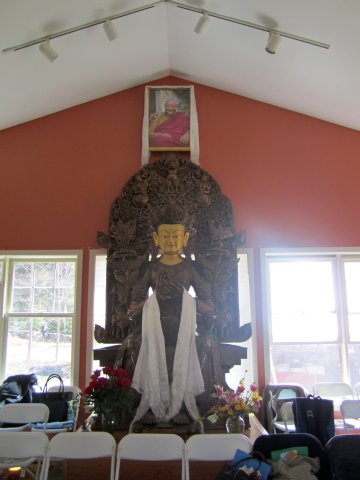 Beautiful statues and artwork My new seat, nothing in front of me but the stage.

The morning started with a recap of yesterdays teaching by the resident teacher, and 2 hours of prayer and meditation.
We took a morning break and I did the yoga that was offered, it really helped my back. We then broke into groups and had discussions about what we had learned. I drew #8, my group leaders name was Caylee, I believe he said he had been practing for 15 years and was a member of the sangha there at the retreat. Sangha is like the congregation of a church, the buddhist community. In our group was a nurse, another woman who did not say what she did, a musician, a therapist, me and Caylee. Expect for Caylee and myself, everyone was from NY city. They were surprised I came so far just for this weekends event. Everyone was a Buddhist but me, all for 15+ years. The conversations were so interesting and taught me a lot about myself. After the small group sessions were over it was time for lunch.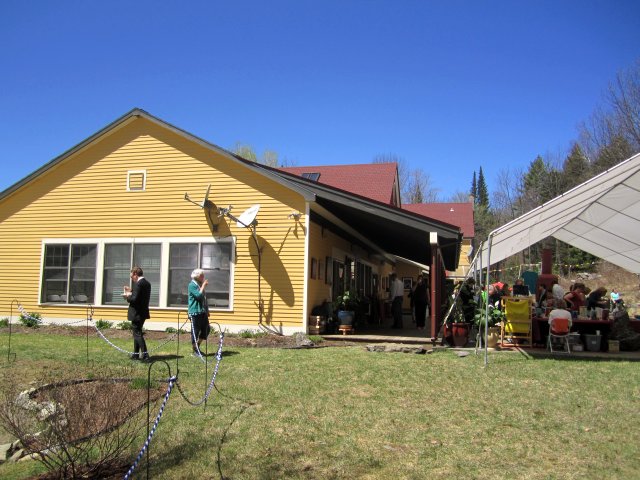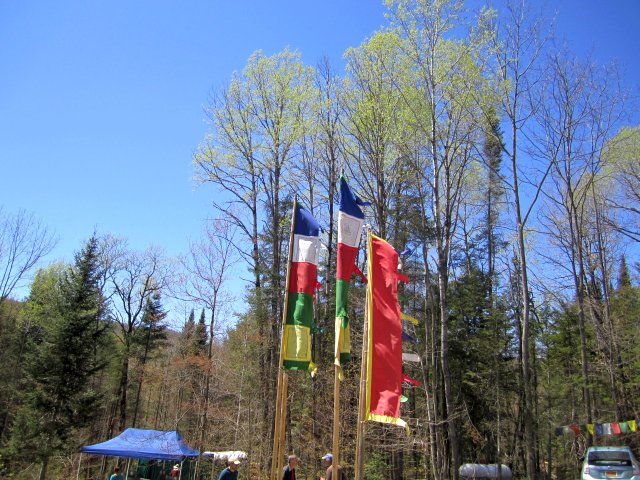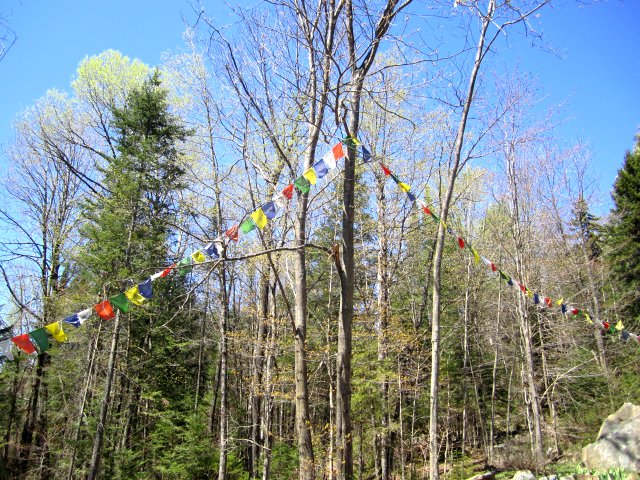 Caylee in the suit, side of the building. Flags out front. Prayer Flags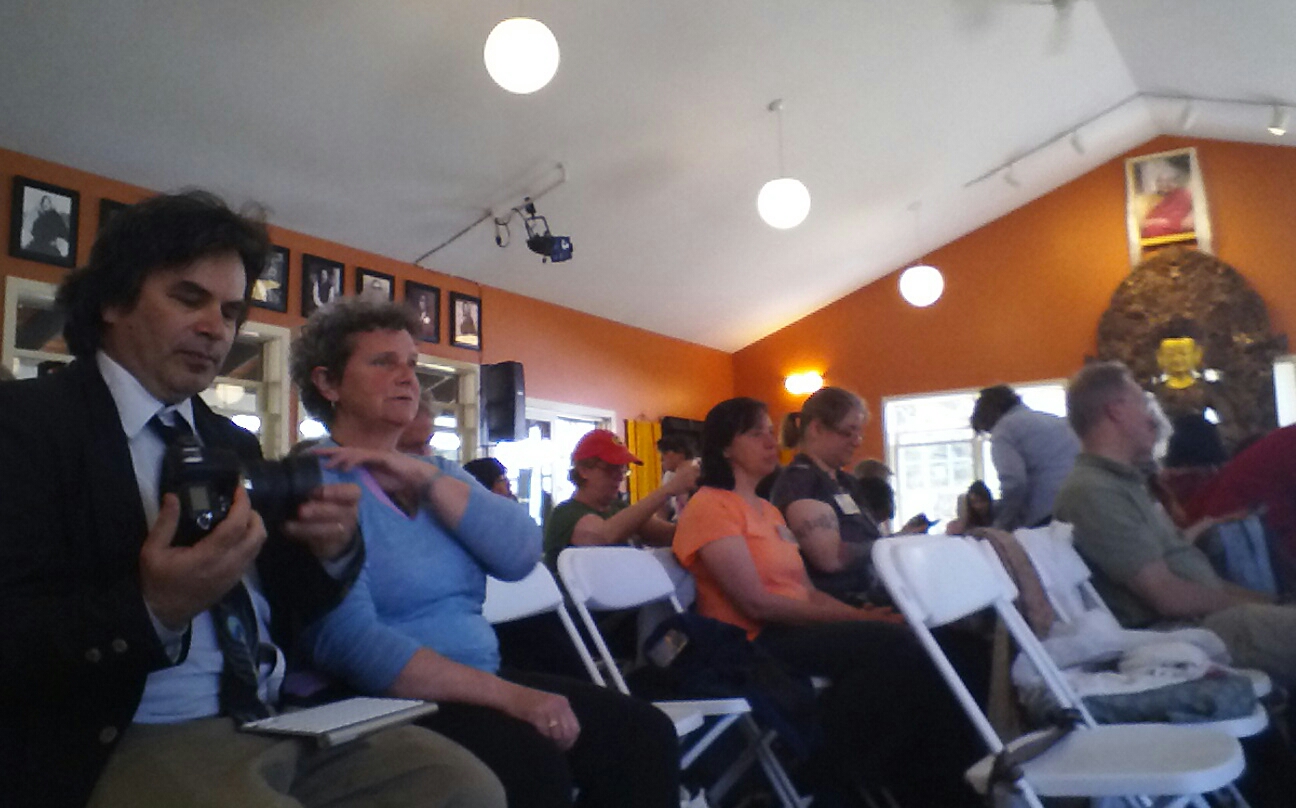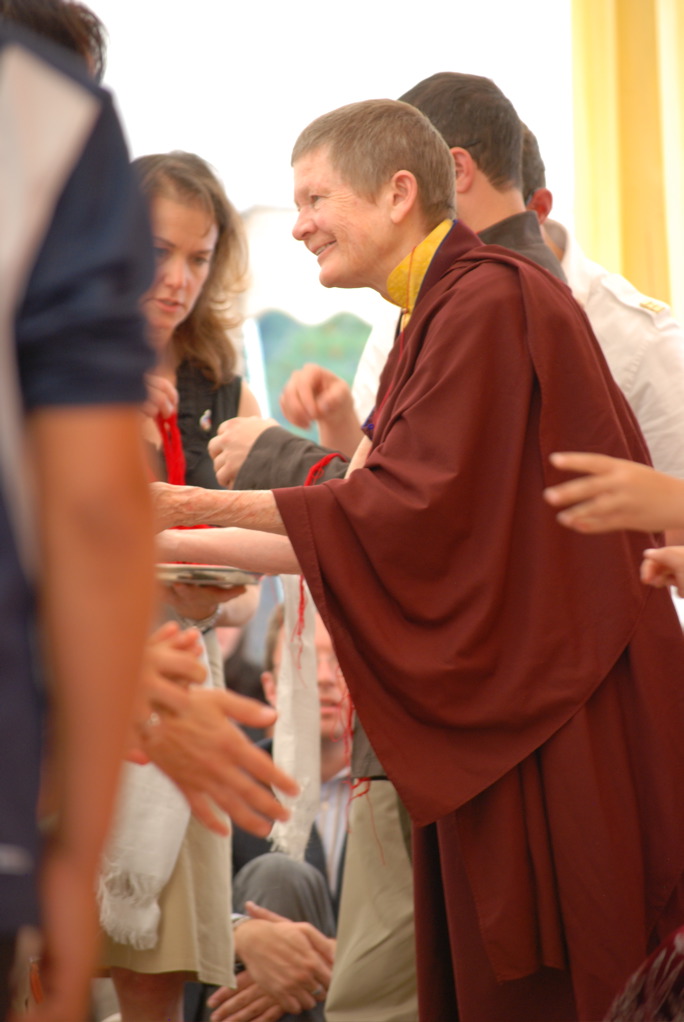 (photo of Pema from her facebook page)
This is inside just before Pema's afternoon teachings, this is her camera man. He shared pictures of Tibet with Greg and I that he had taken just two weeks ago. Pema came in and gave very insightful teachings. She is truely an inspiration. The questions were touching and heart felt.

During this teaching I decided to give Greg my mala (prayer beads that I had made for myself). She was looking at the ones in the gift shop but none seemed to suit her. My beads are blessed with merit of many prayers and hours and hours of meditation. I gave them to her just as she left. I hope everytime she sees the mala it reminds her to continue to practice sitting, and of the lessons we learned this weekend. She truely made my weekend memorable, I was blessed that our paths crossed. I am pleased to say Greg did have a safe journey home to Ottowa, and she was touched that I gave her my mala (she told me that she wore them around her neck on the drive home).

Since I really had no place to go I stuck around the retreat and I helped to fold chairs and tables. I talked to a lot of people at the Sangha, looks like I was the only person they knew of who came from California to see Pema this weekend. I caught the last bus to my car. Everyone was so nice wishing me a safe journey home. I drove past Lake Fairlee to the lodge.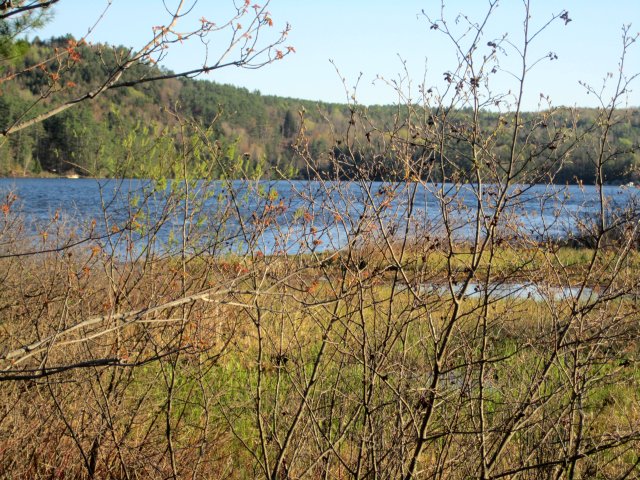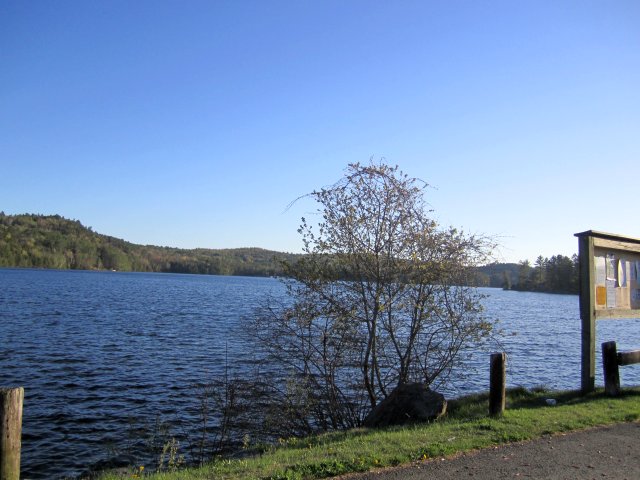 Stopped on my way back to the lodge to take some photos of Lake Fairlee.

It was Sunday evening in the town of Fairlee, the side walks were rolled up. I went to the market and got a sandwich and a drink. I sat on the porch and watched a beautiful sunset. The weather here was perfect, the locals told me I must have brought the sunshine with me. Two weeks before there was 18 inches of snow on the ground, it was in the 70's today.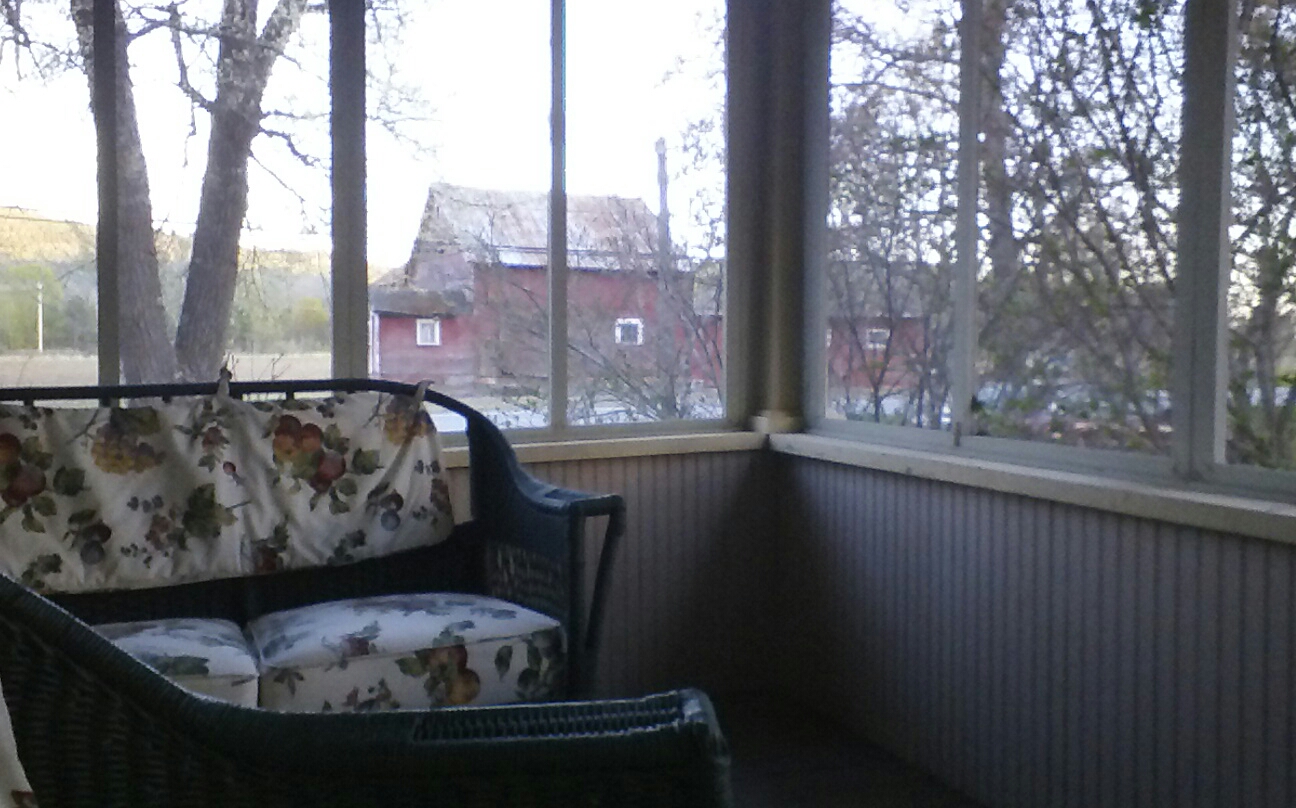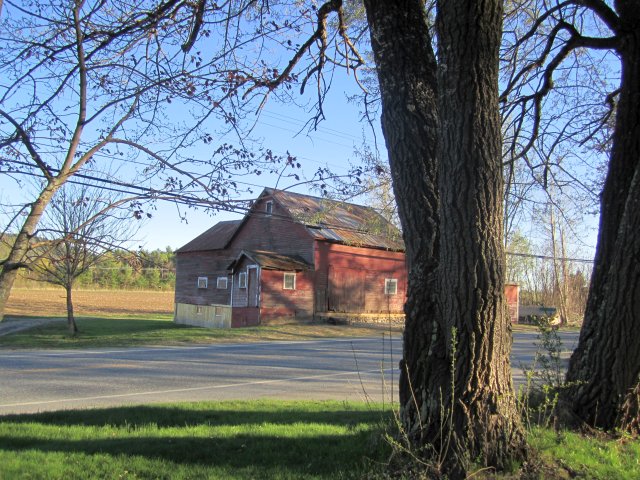 Sitting on the porch eating my dinner, enjoying the beauty around me. The barn across the street.

I talked to Mike, he confirmed my flight back to LA for me. Scott gave me a more scenic road for the way back to Burlington tomorrow, he said it was a beautiful 2 lane hightway. I stayed on the porch until it was dark, I went into the house, I was the only one left in the lodge, the others all left for home. It was quiet. No floor squeeking, no voices through the walls, just silence. I drifted off to sleep, basking in the thoughts of the day.

Monday morning up at 5:00. I knew I would not fall back to sleep so I just got packed up and was on the road at 5:45. I will watch the sunrise over the hills of Vermont.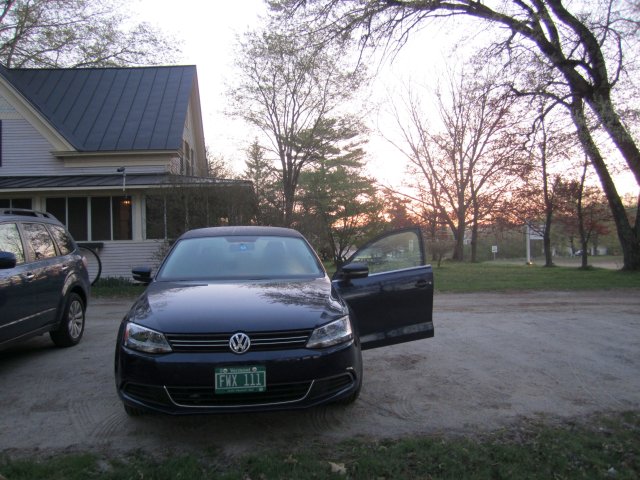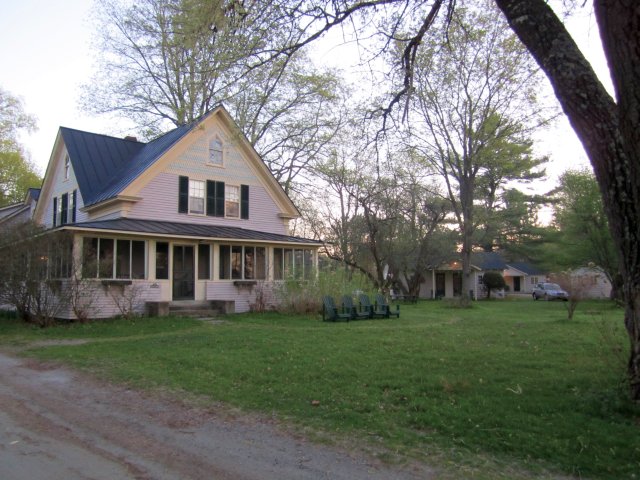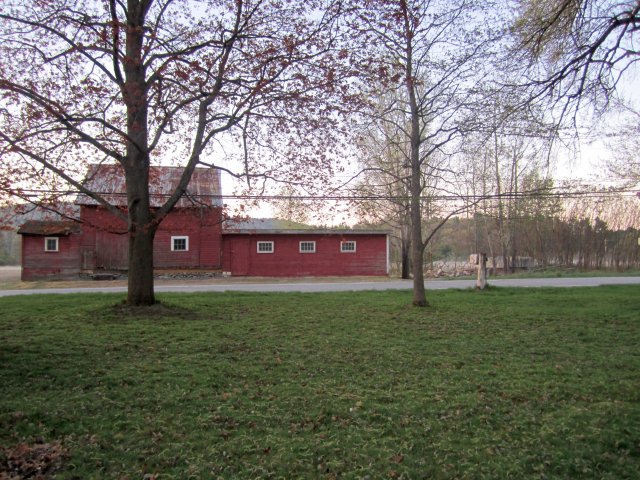 Packed up the VW Last photo of the Lodge and the barn.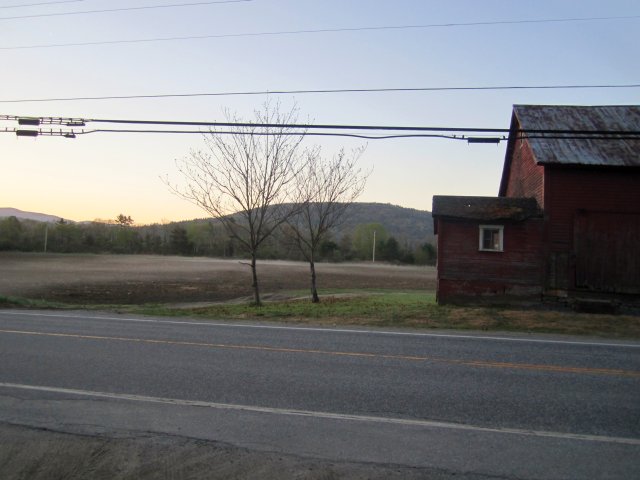 Mist covered the fields. Turned onto Hwy 25, the sun hit this barn.
I was so at peace driving this morning, I fact I said out load to myself "I am home".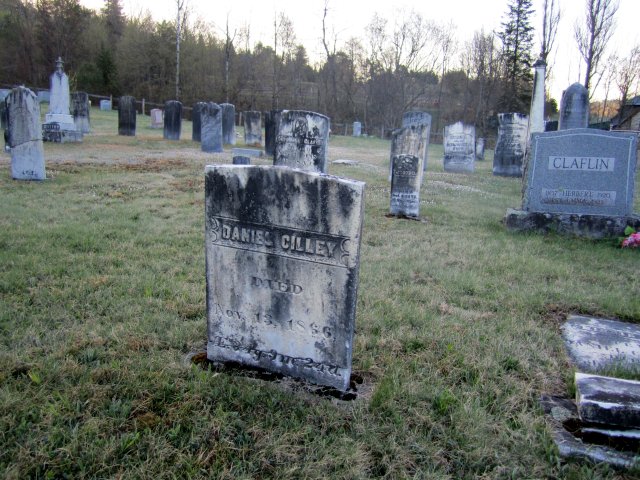 I stopped at a grave yard along side the road and took these photos.
Further up the road I followed a river for miles, I found a safe place to pull over to take a couple of photos.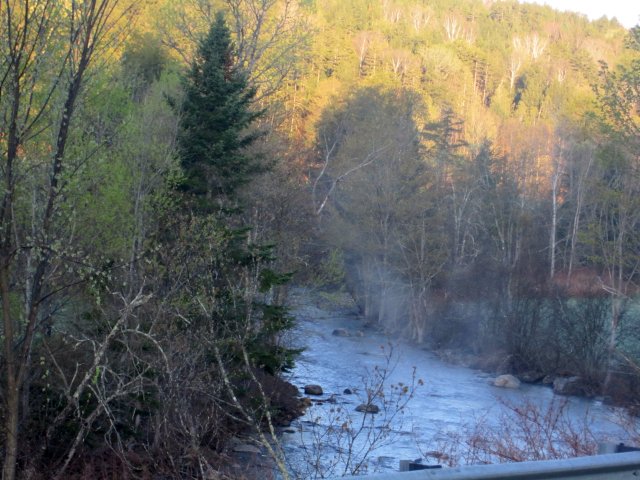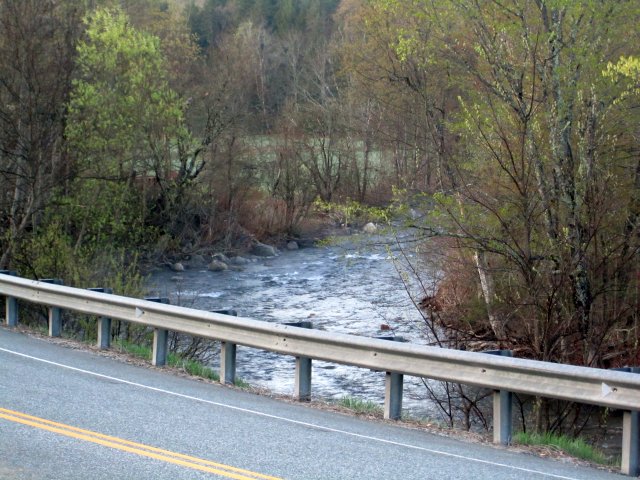 At Barre I cut over to highway 89, it was still beautiful along the highway. I started to hit traffic, it was Monday morning and I was pulling into Burlington at 8:30. I never slowed down under 60.

One last photo, before I went to the airport I stopped for coffee, I had time to kill. There were 4 older gentlemen sitting at another table, they were discussing the problems of Burlington. I ease dropped for over an hour, it was like I was in Mayberry. Another thing that surprised me is that I turned on a classical station while driving, when the music stopped, they were not speaking spanish, the were speaking french. Wow I wasn't in California.... I listened to the local news, watch out for the moose, and the amphibians on the roads, and that you need a permit to burn your trash, this month. I was in a very rural area. I won't bore you with my flight back home, but I did have to make a run for it in the Detroit airport to make my connection flight... I made it!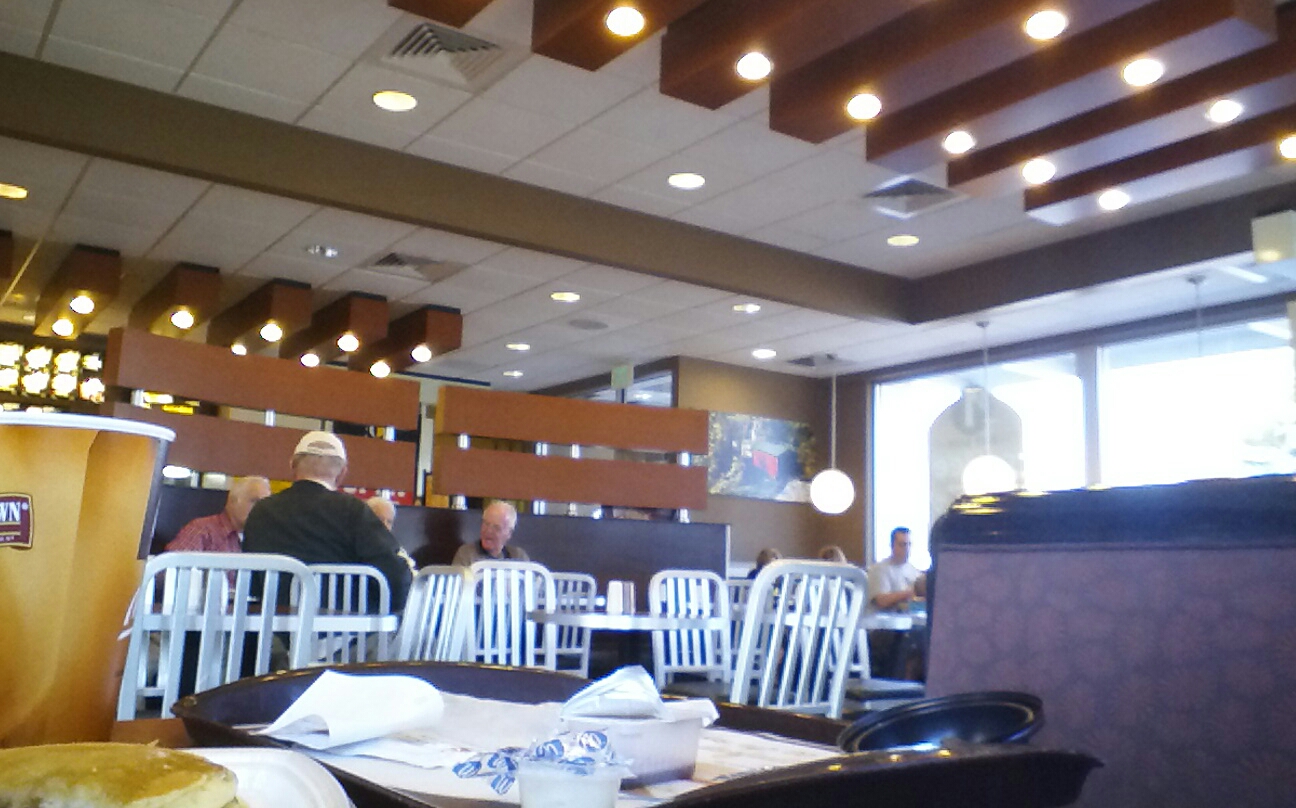 Men at the coffee shop in Burlington.

This was quite a journey for me. I met some wonderful people, got a teaching from Pema in person, and enjoyed the beauty of Vermont. It was too short, but awesome.

If you got this far thank you for reading about my adventure.